Yard-Porch (Debris/Appliances/Autos/Unmaintained Vegetation)
SIGNIFICANT amounts of debris, garbage, building materials and other items that exhibit a trip, theft, or fire hazard should be marked as major. Note the duration of the items/material. Is it possibly from recent renovation or repairs?
We are looking for pride of ownership factor visible in the properties that we insure. If there is an accumulation of debris on the property that seems to have been there for some time, a definite major must be marked as this shows a lack of pride in the upkeep of the property. Sometimes you can make this determination by the condition of the debris i.e. rotting items, grass and weeds growing through and all around the items, etc. If the items appear only temporary (such as a recent accumulation of debris due to previous owners moving out or maybe the customer is preparing for a bulk trash pick-up), then no hazard is needed, but a comment will be required to communicate your thought process.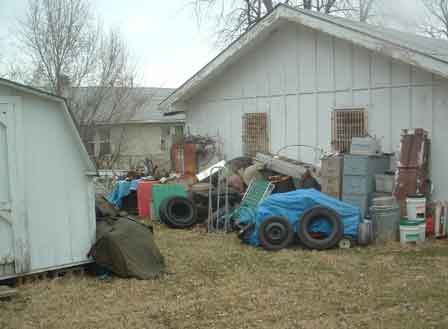 Unmaintained Vegetation