Dogs-Vicious Animals
"We underwrite against Pit Bulls, Chows, Rottweilers and mixes with any of these breeds for Mobile/Manufactured Home policies, Dwelling Fire policies, Homeowner's policies, but NOT for Landlord's policies.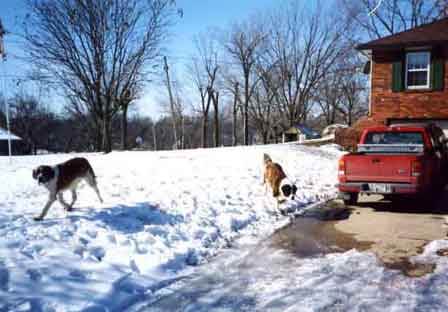 Inspector's Greeting Commitee
Also, you will NOT need to mark any other breeds of dogs as a major condition, regardless of the aggressive behavior. There are no minor conditions for this category."
I have been surprised by quite a few dogs. Most are protective of their territory. One took a chunk out of my thick plastic clipboard. I've raced back to my car many times after having rounded the corner of the house and awakened pooch from a slumber.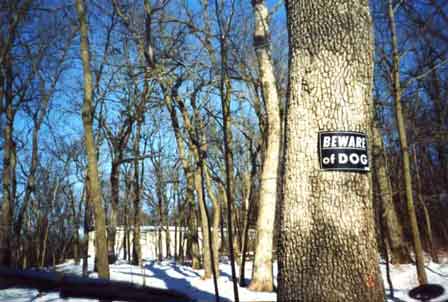 Inspectors Quickly Learn To Honor These Signs
One German Shepherd accompanied me around the house keeping its snout 2 inches from my crotch the whole way. The dog's owner assured me it was OK. I assure you it was NOT OK!
The best dog story I have is this: We were to always knock at the front door in an attempt to interview the homeowner. The homeowner answered and I interviewed her asking all the standard questions.
There was no mention of a dog and I mistakenly assumed I would find no such beast in the fenced back yard. As I swung open the six foot tall wooden gate I took note of a well worn path close to the house but continued on based on her statement. Just as I rounded the left side of the house there it was. The largest Rotweiller I had ever seen standing not more than five feet away looking me square in the eyes.
I ran. No time to shut gate - must get to car, run!
I called this homeowner from my car and told her her dog was loose. She admitted she could not control the dog and said she would call her husband home from work to round it up and asked "oh, can you wait for him to get home?" Thats when I left.
Bottom Line: Forget about homeowners insurance from most carriers if you have a Pit Bull, Chow or Rottweiler.